"A Morning Glory at my window satisfies me more than the metaphysics of books. ~ Walt Whitman
METAPHYSICS 
A branch of Philosophy that investigates the nature of reality
through the analysis of the relationship between Mind and Matter, Spirit and Form.
---
As many of my students know, I have a secondary interest in Metaphysics. It just so happens that the same month that I discovered gum paste flowers in February 1988, I was also first handed a channeled work on this fascinating study. So for me, both my love of gum paste flowers and my fascination with Metaphysics go hand in hand. I take them equally to Heart. 
For the last several years, I have used the vehicle of my monthly "Cake of the Month" newsletter to compose first drafts of chapters for a book I have been writing for years called, "The Symbolic Universe – A Metaphysical Guide to the Nature of Reality." I will continue on now with new missives added periodically to this section of my site.
Many of my students and customers have told me that the knowledge I enjoy sharing, has brought them help or comfort in life in some way. Because I have ended my classes because of ongoing DVD productions, some have been encouraging me to share more of my three decade long trek into the magical, or should I say, mystical world of Metaphysics.They say they miss hearing those types of esoteric thoughts, dotted throughout the creation of many sugar petals.
This section of the site will begin to grow as I slip in a lesson periodically covering many aspects of the nature of reality. Hope you find the information illuminating. The first three essays were written as a trilogy covering a fundamental subject matter of the Yin (feminine) and Yang (masculine) aspects of the hue-man consciousness:
As you may have discovered in essay #5 above, I have a rudimentary knowledge of Astrology. If you are interested in me preparing your Natal Chart (birth chart), along with a thorough analysis prepared by the state of the art, IO Astrology program, just follow the instructions below. I will be happy to serve you.
Peace and Light,
Scott Clark Woolley
CLICK ON IMAGE BELOW TO ORDER YOUR NATAL CHART!
Makes a great gift for someone else too!
---
Here is my Men are from Mars and Women are from Venus chart.
See where your scale tips most of the time.
---
A Message From Mother Earth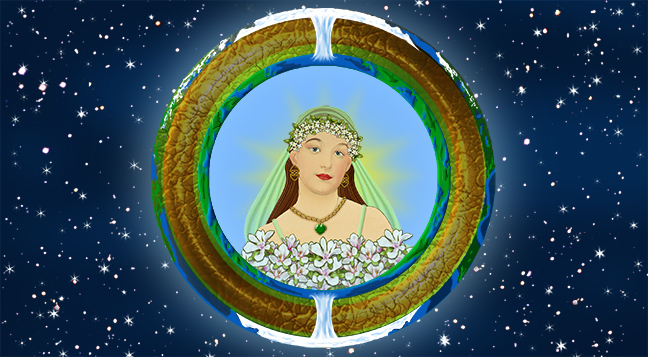 Graphic image designed by Bill E. Dietrich for upcoming DVD#8, "Spring Flowers In Sugar."
One of my favorite channelers is Maurice B. Cooke, from Canada.
In the 70's, during a session, he connected with the consciousness that is Mother Earth.
Here is a rare recording of Gaia, sharing her unconditional love with humanity, through this remarkable man.
I would stake my life on its authenticity.
---
Hue-man Rainbow Song
Click here for a little ditty that can be used to align one's chakras.
It was taught to me by an amazing teacher
that I met at the Harmonic Convergence in NYC, August 17, 1987.
---
"All the meaning of life is veiled in numbers."
~ Pythagoras, Father of Mathematics and Numerology
Click on image to learn more!